"Meet Lavetta of Aditya Birla Group"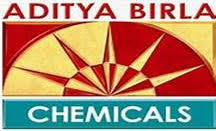 Aditya Birla Group (ABG) is a $48.3 billion dollar corporation, located in 34 other countries in North and South America, with over 120,000 employees. OfficeKey client, Lavetta Tevis is Logistics Manager for Aditya Birla Group, she is also an Olympic Athlete. Enjoy her Q & A, below: 
Q: What does Aditya Birla specialize in?
A: ABG manufactures epoxy resins in liquid, solid, solutions, blends and multifunctional forms. These high-quality epoxies find wide application in many industries including but not limited to automotive, construction, heavy engineering, transport, electronics, and food and beverage packing. 
Q: What do you like most about having your team's office at OfficeKey?
A: I love the staff! The vibe is like no other. They are so welcoming and helpful. Everything we need is at our fingertips! BTW: The upgrades to the office especially the kitchen / break room are awesome!!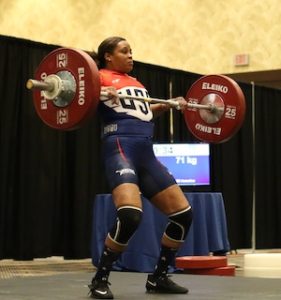 Q: We understand you partake in weightlifting competitions, how did you come to get involved with that?
A: I got involved with Olympic weightlifting through CrossFit back in 2013.
Q: How often do you get to participate in Olympic competitions?
A: I have been competing in the sport of Olympic Weightlifting since November 2015. I compete about every 2 or 3 month traveling from state to state (Florida, Ohio, Georgia, Washington, California, Utah and Kentucky) and from country to country (Puerto Rico, Germany and Canada).
Q: What is your personal record and have you received any awards?
A: In the sport of Olympic weightlifting we have 2 lifts we do and they are the Snatch and Clean & Jerk. My PR for the Snatch is 56kg / 123lb and my goal is to lift 60kg / 132lbs by the end of the year. My PR for the Clean & Jerk is 78kg / 171lbs and my goal is lift 80kg / 176 by the end of the year. 
I am currently ranked 2nd, and I hold a record in the state of Kentucky in the 81kg weight class / 45 yr old group. I am currently ranked 2nd internationally in the 81kg weight class / 45 year old group. I am currently ranked 1st Nationally in the 81kg weight class / 45 year old group (I also hold a GOLD MEDAL in both the 75kg and the 81kg weight classes). I am currently ranked 6th in the world in the 75kg weight class.
I was inducted into the Union College Athletic Hall of Fame on April 25, 2018 for the sport of Volleyball (as an undergrad) and Olympic Weightlifting (as an alum).
Q: What does a typical workout look like for you?
A: I generally workout 4 to 5 days a week depending how quickly I can recover. My workouts typically last 2 to 2 ½ hours and within that time I will do mobility work, stretch and work on the lift of the day including accessory work for those lifts.
Q: What is a favorite cheat day food?
A: My favorite cheat day meal depends on whatever I have a taste for at the time and my mood lol. However lately I have ventured toward something quick and easy which is large Papa John's pepperoni pizza.
Q: If you could have one superpower, what would it be? 
A: The one superpower I wished I had would be the power to HEAL…..heal everyone and everything!
Q: What was your favorite childhood toy? 
A: My favorite childhood toy to was my big wheel. I would zip down the sidewalks in my neighborhood and spin like crazy around the curbs lol. I absolutely loved that thing.
Q: What is your favorite vacation destination?
The sport of Olympic weightlifting has taken me to many places I thought I would never go, but I have to say my all-time favorite spot (so far) that I have gone has to be San Juan Puerto Rico. It was absolutely beautiful! 
Learn more about Aditya Birla Group on their website. Connect with Lavetta via LinkedIn.