Comments Off

on Cincinnati Sales Coach, Duane Plapp
"Cincinnati Sales Coach, Duane Plapp"
We were able to catch up with Sales Coach, Duane Plapp between speaking engagements to ask him about his business and some of his favorite past-times. Duane has been a client of OfficeKey for seven years and recently celebrated his 70th birthday!
Besides being a sales coach to local small business owners and managers, he is a sought-after public speaker on the topics of referral marketing and business growth.
Duane officially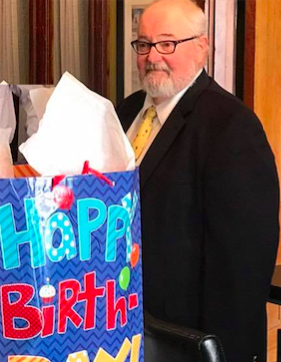 retired about 10 years ago, but coaching is a passion he didn't want to give up. His sliding scale fee structure allows him to provide services to those who are just starting out and need that extra push to excel. His deep knowledge of business also allows him to coach seasoned professionals who want to move to their next level.
Q: Tell us about Total Revenue Coaching?
A: Total Revenue Coaching is a marketing and sales coaching and training business. Our core business philosophy is to help marketing professionals to create effective communication and develop strong relationships through the right strategic activity.
Q: How did you decide to be a Sales Coach?
A: I love to help people and coaching is the best way I know to give back.
Q: What type of clients do you enjoy working with most?
A: I love working with small business marketing professionals.
Q: What do you enjoy most about what you do?
A: Sales Coaching gives me the opportunity to interact with a lot of people and create a lot of great relationships. I love seeing people succeed!
Q: What features of OfficeKey do you like the most?
A: The Conference rooms at OfficeKey are perfect for my training sessions. The monitors and whiteboards make my sessions more visual and more engaging for my sales coaching students.
Q: How do you spend your time outside of work?
A: I enjoy golfing, fishing, and camping.
Q: Do you have a favorite quote?
A: "Cha Ching!"
Q: What is your favorite sports team?
A: I enjoy watching and rooting for the Chicago Cubs and the Chicago Bears. They keep me entertained all year round!
Q: Who is your favorite singer or band?
A: The Beach Boys…Best American Band of All Time!
Q: What is your favorite book?
A: I would have to say the Bible.
To get to know more about Duane and Total Revenue Coaching, visit the website. If you see him around the office, make sure to wish him a Happy Birthday!