Comments Off

on 2018 Annual OfficeKey Staff Meeting
"2018 Annual OfficeKey Staff Meeting"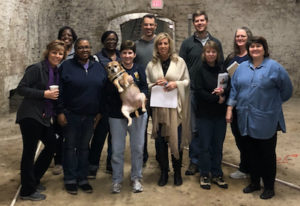 With five locations and 12 staff members, it is not very often that the OfficeKey team has the opportunity to gather in one place.  Therefore each January we convene for an annual meeting that allows us to get together in the same room and work on ways to continually improve our service offering. 
This January our team met at Union Hall on a snowy Saturday morning.  Located in OTR, Union Hall is the startup hub for Cincinnati entrepreneurs and is the home to Cintrifuse, The Brandery, and CincyTech.  We were fortunate enough to get a tour of the facility from Cintrifuse's Operations Manager Laura Hughes, and her assistant tour guide/dog George.  The in-depth look at their organization offered great inspiration to our staff in ways that we can rethink our own offices. 
A large portion of our day was focused on the development of the Four Quadrants of Workspace that we featured in the October 2017 version of OfficeKey Monthly. Specifically, we focused on private workspaces, maker spaces, coworking, hospitality and after-hours access.  Several of the ideas discussed will hopefully be put in to practice in 2018.
The day was not all business as we enjoyed a fantastic lunch from nearby Panino.  We also got to surprise our very own Jason Campbell with a baby shower. Overall it was a successful meeting and it put us on track toward accomplishing our primary goal which is adding value to the OfficeKey service and those in our community.