Comments Off

on 9 Practical Tips for Planning a Meeting Successfully
"9 Practical Tips for Planning a Meeting Successfully"
Planning a Meeting?
With over 250 companies regularly using OfficeKey,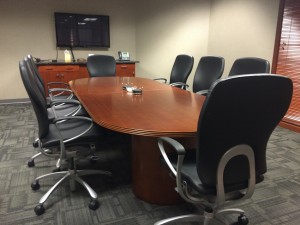 we have learned a lot about meeting preparation. Each company has its own priorities, but some elements are typically the same when planning a meeting. Here is a list we have come up with that will help you plan a successful meeting:
1. Choose the optimal location – Sometimes being centrally located or easily accessible may be the priority when planning a meeting.  Other times it might be more important to choose the location that is most impressive to your guests.  Select the location that will work best with what you are trying to accomplish.
2. Plan the space well – When planning a meeting, consider the number of people and the size of the space; having too much room can make the room seem empty and having too little room can disrupt productivity. If your meeting will include just a few people, don't use a large boardroom or presentation room. However, if you are unsure, plan on the higher side of the range. If necessary, it is easier to move to a smaller space than a larger one.
3. Reserve your room – Do this as soon as you have a good estimate of the number of attendees. Room sizes and times can always be changed if needed.
4. Allow adequate time – For a larger group, a good rule of thumb is to have the room 15-30 minutes before the official meeting start time. And depending on the scope of the meeting, it is often helpful to build in some extra time after the meeting as well. How much material will be covered? Make sure you have set aside enough time during the meeting to go over everything you need to cover.  Also make sure you leave time for discussion and questions.
5. Arrive early – It is likely that someone in your group will show up as much as 15 minutes early so be sure to be there when they do. If there is a presentation or any equipment that needs setup, it is advised to show up with plenty of time to do so. Even being in place 30 minutes before can create much more stress than necessary if you are up against the clock. Being in place at least one hour before allows for plenty of time to work through any setup procedures.
6. Have equipment ready – Decide, while you are planning a meeting, what kind of equipment will be needed: projector, HDMI, Wifi, etc. Communicate that to the staff of the facility. Confirm what is on site and if there is anything that needs to be brought the day of the meeting. Test all equipment before hand. And again, being in place an hour before gives you time to set everything up and work through any issues prior to your guests arrival.
7. Prepare other non-technical materials – Print handouts ahead of time. Put in requests for whiteboards or flip charts (also remember to take a photo of any good notes at the end).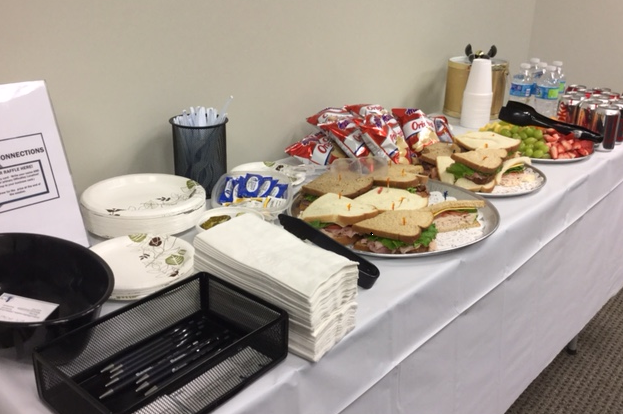 8. Have refreshments for your attendees – Depending on what time the meeting is, have the appropriate refreshments. If you are planning a  meeting around lunch time, you may want to arrange a catered lunch. Having water, coffee, mints, light snacks any time of day is ideal.
9. Have a clear agenda – Present the agenda at the outset of the meeting (or possibly ahead of time) and define the time being allotted to each topic. If you are leading the meeting perhaps assign another attendee to help you keep track of the time.
10. Follow up – Have you given everyone a way to stay in touch or ask questions? Welcome everyone to reach out in way that make sense to them personally. Phone, email, text or even in some instances social media are all ways to encourage everyone to stay in touch.
There are many items to consider when you are planning a meeting, but these ideas should help you get started. Good Luck!