Comments Off

on Soccer in Cincinnati
"Soccer in Cincinnati"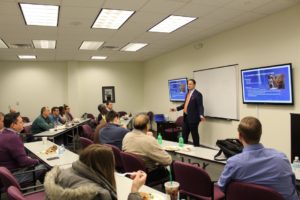 For our March Key Connections lunch, we were fortunate to have FC Cincinnati President and General Manager Jeff Berding present to our group.  Jeff shared with us the incredible story of FC Cincinnati's rise from the minor leagues to become the city's 3rd major league level professional sports franchise in just 3 short years.  
Jeff shared that there are three core values that FCC is built upon:
Winning
Family Friendly
Community Engagement
The winning culture is evident by the results on the pitch.  In three years in the 2nd division USL, they had winning records and made the playoffs each season.  In 2017 they made it to the semifinals of the US Open Cup.  Jeff spoke about the transition to the MLS and challenges of building a team to compete in the highest league as soon as possible.  He plans to build the roster such that by the time they get into their new West End stadium in 2021 they will be ready to compete with the top teams in the league.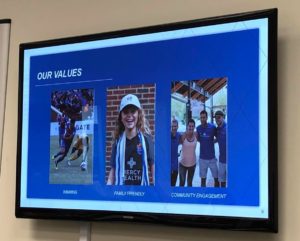 Jeff shared that family-friendliness is a huge priority for their organization.  He told a story that occurred in the "Bailey" which is the section of the stadium where the most ardent supporters sit.  He said that the team encouraged the supporter groups that sit there to create a rowdy atmosphere.  However, he said there can be no cursing, it has to be family friendly.  In one of the first games, the group self-policed their area and kicked out a fan that was cursing and suspended his attendance for the next three games.
Their third core value is community engagement.  One example of that is that FC Cincinnati is taking over the Marvin Lewis Community Fund.  The organization focuses on youth education goals in the Greater Cincinnati area.  With Lewis's departure as the Bengals head coach, Jeff and FCC have taken it upon themselves to continue that legacy.
What's in store for FC Cincinnati? 
They are working on a new stadium in the West End that will hold about 25,000 fans.  It is expected to be completed by the beginning of the 2021 season. 
Their first MLS game at home will be on Sunday March 17 at 5pm at Nippert Stadium against the Portland Timbers. 
More community engagement with youth soccer academies for girls and boys that compete at the global level.