Comments Off

on Celebrating Angela's 25th Anniversary
"Celebrating Angela's 25th Anniversary"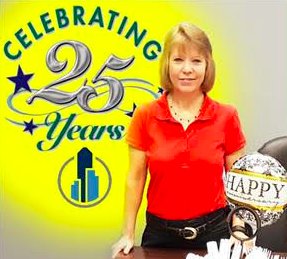 Angela is a multi-talented team member sharing her expertise with OfficeKey clients for 25 years. In addition to assisting callers and greeting guests, she arranges all your meeting needs at the West Chester location.
Angela reflected on her time with OfficeKey and gave her thoughts on what has helped her continue to thrive for so many years,
We as a company need to take care of our clients or someone else will.  I believe this has been true since the day I started. We are always looking for ways to better our office and staff.
An avid outdoor lover, she enjoys spending time with her family and their extended animal family that includes two dogs and two bearded dragons!
We celebrate her hard work and dedication. Next time you are in West Chester, take a moment to offer her congratulations! You can read her bio here. You can also connect with Angela on LinkedIn.