Comments Off

on Office Renovations – New Day Office Design
"Office Renovations – New Day Office Design"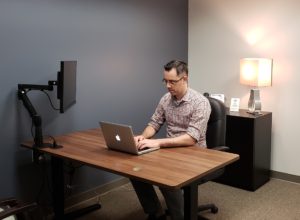 Several months ago we solicited client feedback regarding office renovations that would make our Day Offices (reservable rooms for 1 to 3 people) more productive.  We received a lot of great responses and have taken those opinions to heart.  We feel like we have taken a step in the right direction with one of the Day Offices in each location having undergone a "makeover."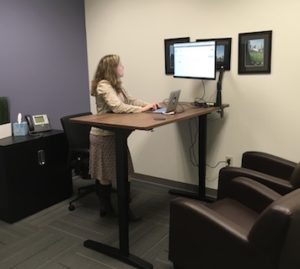 Standing desks have been added that can raise or lower with the push of a button.  The desktop includes a grommet with a power outlet thus removing the need to get on the floor and mess with power strips and tangled cords.  A swivel monitor is attached to the desk that can be used as a second screen for individual work or as a display for group settings.  Additionally, we have added a storage cabinet with plenty of space to stow a purse or laptop bag while meeting with a client.
If you have an opportunity to try out the new design, please share your thoughts with our staff. Your feedback is always appreciated.