Comments Off

on Meet Pat of Turnbull-Walhert Construction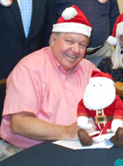 Pat Raverty is the Director of Business Development for Cincinnati-based, Turnbull-Walhert Construction and is a true pleasure to have in our office community.  He is also very involved in the community through the Florence Rotary Club and is the chair of the Steinford Toy Drive which is currently collecting toys for local needy children.
Q: What does your company do?
A: Turnbull-Wahlert Construction offers services for commercial construction management, design-build, bid-spec, and design-bid-build construction. With a current client base that has grown to include Fortune 500 companies, school districts, medical facilities and major retailers across the nation, the success of Turnbull-Wahlert Construction is most evident in the high percentage of clients who have relied on our services in the past and return to us with new assignments. The forging of these relationships has resulted in a trend of sustained growth year after year with last completing nearly $90,000,000 in new projects. This year Turnbull-Wahlert Construction was one of  the Cincinnati Business Couriers Fast 55 and the Northern Kentucky Chamber of Commerce Emerging 30 Companies plus numerous other project awards.
Q: What do you like to do outside of work?
A: Outside of work, I enjoy spending time with my family and friends, plus each of my daughters had our first grand-babies this Fall. I also enjoy travel, community involvement and working on our farm.
Q: What's the most rewarding part of your job?
A: Meeting and interacting with interesting people.
Q: What is your favorite movie?
A: I like Star Wars, Indiana Jones, Die Hard, or any movie with John Wayne. I like movies with a happy ending, where the little guy comes out on top! 
Q: If you could have a super power, what would it be?
A: The ability to eliminate poverty. I am the chair of the Florence Rotary Club Steinford Toy Project. I execute the Steinford Toy Drive, which provides Christmas presents to children in need. Since I took the lead of the drive, in 2014, we have gone from 33 to 75 locations. There is even a box at the Northern Kentucky OfficeKey location to collect toys!
Q: What is your favorite part about working in an OfficeKey location?
A: A quality environment in a convenient location with a supportive staff.
From construction to Christmas spirit, Pat Raverty does it all.
Post contributed by Kenzie Walters