Comments Off

on Design, Marketing, and Media Professional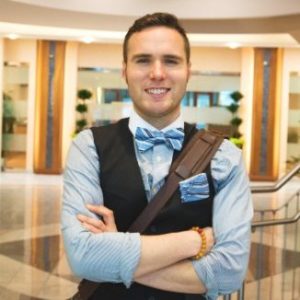 What Jeremy Gotwals enjoys most about the work he does at Holon Publishing is being paid to create. Gotwals recalls always having a passion for creation. He's starred in two MTV shows, was on American Idol, and created a film that prompted him to hitchhike across the country to the Burning Man Festival. But before fulfilling his creative outlets, at age nineteen he realized that as a generally creative person, his most desirable situation would be having the opportunity to make a living creating.  Gotwals finds joy in being able to bring together the creative parts of his personality with the strategic and technical aspects of his business.
Holon Publishing can be halved into two facets of business. On one end, they do publishing consulting, which includes editing, designing, publishing, distributing, marketing and promoting published materials that range anywhere from a small project of fiction from an artist, or more professional geared material from an educational source. The other half of Holon's business is a straightforward digital agency that deals in tasks such as branding, web design, social media or targeted ad campaigns.  And of course, Gotwals appreciates being able to share this combination of creation and strategy with the people he does business with. He brags that his clients are interesting and unique, and it's a privilege to be able to do business with people from all ends of the world.
OfficeKey has been an instrumental part of Gotwals' growing his business. So helpful that he was prompted to use the word, "outstanding," when describing the services we provide. What he appreciates the most is OfficeKey's phenomenal flexibility that it brings to business of any size. Furthermore, he praises OfficeKey as being a service provider that can bring big business amenities to a small or remote business. Gotwals names his most valuable resource at OfficeKey to be the community. The people in the OfficeKey locations, whether it is our employees or other clients, come together as a flexible community, willing to provide their specific services to their peers and be supportive in any way possible. Collaboration, Gotwals says, is the most valuable thing OfficeKey has to offer.
Connect with Jeremy on LinkedIn.